(...The Old Wives' Tale by Arnold Bennett)


Reading Bennett's The Old Wives' Tale is a little like reading an amateur historian's local-interest account of a once-beloved but no longer extant draper's shop in a small town you've never visited nor heard of. I was bored with much of this novel. The writing is precise, but without intensity or wild artistry, the characterization is fair but without psychological depth or penetration. Bennett's writing is genteel, conservative, representing the type of aesthetic literary tradition that would be dealt a significant blow by the advent of Modernism, (Old Wives' Tale was published in 1908, but takes place throughout the middle-to-late 1800s). I know there is an Arnold Bennett literary society, with scholars dedicated to his life and work who would strenuously disagree with my assessment of Bennett's "masterpiece," but I can not for the life of me understand how The Old Wives' Tale can be considered one of the greatest novels in the English language. Had he written the tale of Sophia as a novella, my feelings would be different. More on that later—


(...this is the "Arnold Bennett" omelette, developed by the Savoy Hotel for the author--not only will birdlashes never read another work by Bennett, but he will never eat his omelette, either, being of a sensitive gastroenterological disposition).
The Old Wives' Tale is a multi-generational tale of the Baines family, focusing on the lives of the two sisters Constance and Sophia, who we see initially as teenagers living in their parents' combination house/draper shop and follow as their fortunes spool out through the years. As an introduction to the novel, Bennett tells the story of his inspiration: apparently, while sitting in a Parisian restaurant, he was struck at the sight of a pitiable old woman, and had the thought that, "This woman was once young, slim, perhaps beautiful; certainly free from these ridiculous mannerisms. Very probably she is unconscious of her singularities. Her case is a tragedy. One ought to be able to make a heartrending novel out of the history of a woman such as she." This strikes me as a rather cheuvanistic remark, and not a very original or striking observation, yet Bennett did indeed use his observation as his premise, showing two young girls grow old and disfigured, eventually dying, with many people having the thought, "Look at what youth and beauty come to!!!"


(...She was young and beautiful once!)
The first section is about the girls, eventually leading to Sophia's elopement with a traveling salesman named Gerald Scales. The second section focuses on Constance, who stayed at home, married a young draper, grew corpulent, inherited her parents' business, had a son—all the banal isntances of village life occur, culminating in a scandalous murder that is not as interesting as it sounds, and the gradual change of the village as the twentienth century rolls around. Bennett eventually brings us to Sophia's story, picking up from her elopement, and for this section only, the novel becomes a wonderful, romantic adventure full of triumph, tragedy, seduction, betrayal, lost-love, and war. Bennett's Sophia is a ravishingly beautiful, tempestuous, hard-as-steel woman who scrapes and earns her fortune during the Seige of Paris—in many ways, she is a completey unrealistic character, and the males in the novel seem to know this about her, flinging themselves at her feet with declarations of love whenever given the slightest chance. I loved reading this section of the novel, and had Bennett filled his entire novel with the story of Sophia, I would have been extraordinarily happy. As it is, however, he soon returns to life in the village, to watch Constance and Sophia reunite and grow quite old, etc. Bennett seems to have been rather well known for making the proclomation that "ordinary lives" are fit for the material of great art—a sentiment I find noble, if only a great artist had attempted the project (Take that, Arnold Bennett Society!).


(...Apparently, beautiful women, doomed love, war, famine, and hot-air balloon escapes during the Siege of Paris, are only interesting enough for a quarter of Bennett's novel. The rest is taken up by scenes of village life.)
I would imagine this book would have much to chew on for people interested in Victorian England and the changing nature of English village life, or for illustrations of class relations—in short, I can imagine certain college professors keeping this book around for their own nefarious schemes…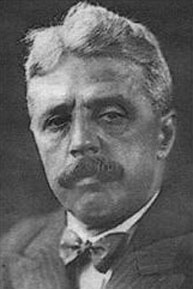 (...Mr. Smarmy-Pants himself, Arnold Bennett--dooming undergraduates for centuries to come!)
Up next: After clearing out a few library books, I pick back up my Greatest Novels List with "The Demolished Man" by Alfred Bester.